Overdye Black Classic Rise Skinny 34'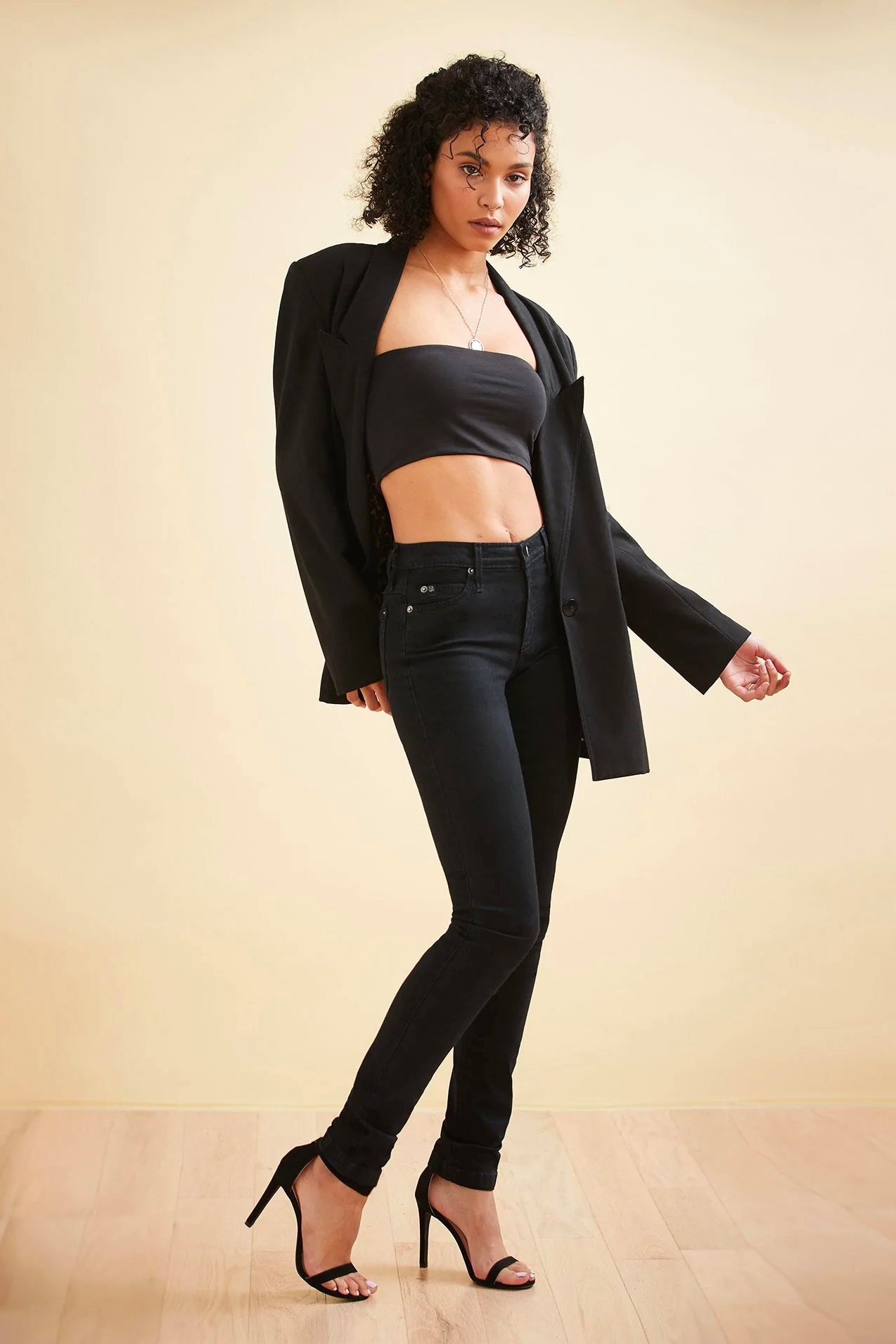 Designer: Second Denim Clothing
The Skinny Yoga Jean is the ultimate jean. It looks great with a heel or a flat, and it fits easily into a boot. Dress it up or down, the skinny jean is all about showing off your beautiful shape in a super feminine cut. Comes in Ink (98% Cotton 2% Spandex) Overdye Black (98% Cotton 2% Spandex) and Rinse Indigo (82% Cotton 16% Polyester 2% Spandex)
When trying them on for the first time they should be really snug, not uncomfortable but tighter than you would normally wear your jeans. Wear them for about 30 minutes to an hour and the denim will relax to its true size. A pair of Yoga Jeans can relax a full size or even two!
SWP1130BK 


These classic-rise skinny jeans are garment-dyed black with clean finishes and a 34" inseam, ideal for taller women who need a little extra length.
This style crafted in our ultra-soft touch Flow denim uses a mixed blend of cotton specially designed to hold their shape while providing a comfortable and soft feel on the skin.
The Rachel. Our skinny silhouette hugs close to the body from the hip to the ankle.
As we pride ourselves on creating eco-conscious denim, it is our top priority to take the necessary steps to lower our carbon footprint. This style is 100% made in Canada.
Fit Tip: This style fits true to size. Follow our size chart to find your perfect fit.
---
Product Features:
34" inseam
Classic-rise
Black (tonal) stitch
Nickel YKK Button, Rivet, and bronze Zipper
Size: 24 to 34
Lina is 5'8" and is wearing a size 26
Gabrielle is 5'9" and is wearing a size 32
Style: 1130-R34
Designed in Montreal
Ethically made in Canada
---
Composition & Care:
Type of denim: Flow
98% Cotton, 2% Spandex
Machine cold wash, do not bleach, hang to dry, iron at low temperature, wash colors separately
9 oz.
Pants Standard Size

00

0

2

4

6

8

10

12

14

16

18

WAIST

24 1/2"

-

25 1/2"

25 1/2"

-

26 1/2"

26 1/2"

-

27 1/2"

27 1/2"

-

28 1/2"

28 1/2"

-

29 1/2"

29 1/2"

-

30 1/2"

30 1/2"

-

31 1/2"

31 1/2"

-

32 1/2"

32 1/2"

-

33 1/2"

331/2"

-

34 1/2"

34 1/2"

-

35 1/2"

HIPS

34 1/2"

-

35 1/2"

35 1/2"

-

36 1/2"

36 1/2"

-

37 1/2"

37 1/2"

-

38 1/2"

38 1/2"

-

39 1/2"

39 1/2"

-

40 1/2"

40 1/2"

-

41 1/2"

41 1/2"

-

42 1/2"

42 1/2"

-

43 1/2"

43 1/2"

-

44 1/2"

44 1/2"

-

45 1/2"

YOGA JEANS

24

25

26

27

28

29

30

31

32

33

34