Essential Oil Blends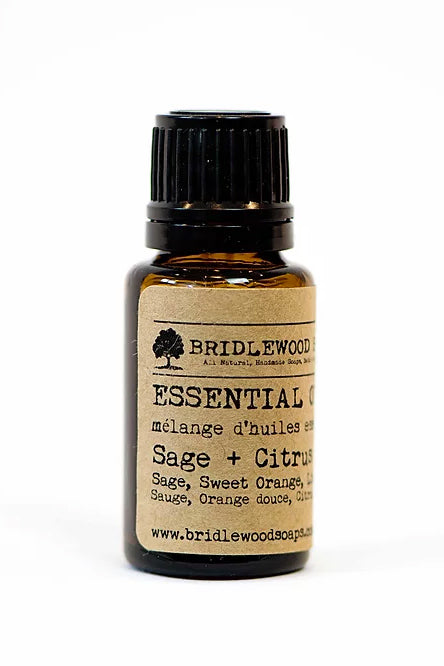 Designer: Bridlewood Soaps
• Enjoy your favourite Bridlewood Soaps essential oil blends! Add a few drops...
• ...into your room diffuser to add a soft aroma to any room in your home
• ...onto wool dryer balls to freshen up your laundry or bedding
• ...into a warm bath water for a relaxing, spa-like experience
• ...into a carrier oil (e.g. jojoba, avocado, argan, etc) and use directly on skin to reap the skin-benefits of those specific essential oils
• Each bottle contains 15mL of pure "Grade A" essential oils
Important notes!
• Always dilute essential oils with carrier oil before applying directly to skin. If reaction occurs, discontinue use
• Never ingest essential oils unless under the direct supervision of a health care professional.  
Sage & Citrus: sage • lime • orange
Blood Orange & Bergamot: blood orange • bergamot
Citrus Eucalyptus: pink grapefruit • eucalyptus • sweet orange
Lemon & Lavender: lemon • lavender
Mint Rosemary: peppermint • rosemary 
Orange Patchouli: sweet orange • patchouli
Bergamot, Cedarwood, & Lavender: cedarwood • bergamot • lavender

Click here to learn more about Bridlewood Soaps!